Would you like to experience the fresh mountain air and scenery of Bavaria´s "Golden Land"with its many leisure activities? Together with a large group, your family, or with your friends? Then you have come to the right place - for life is good in our Chalet, which offers tradition and modern alpine comfort!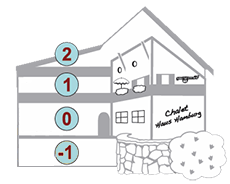 Floors & Floor plans
What the house offers on four floors
The house is rented out as a whole. It has a fenced garden, a seperate garden house (for sports equipment) and a nice spacious parking lot with room for five vehicles.
Its location in the Klarweinstrasse is absolutly quiet. Shops and restaurants are within easy walking distance. There is an easy accces to hiking trails and bicycle lanes, the gondolas of the Hausberg, Kreuzeck, Osterfelder and a valley stop for the Zugspitze train line.